Due to Internet issues at other schools the spelling bee is cancelled and will be held next Tuesday, February 15



Dr. Kamey Kapp and Dr. Marcy O'Neil will be providing no-cost vision screenings, eye exams and glasses to the students of Shishmaref January 17th - January 21st. Parents/ Guardians, please complete the vision screening/ eye exam consent form for your child and return to their teacher. For any questions, please call or text (907) 434-1554.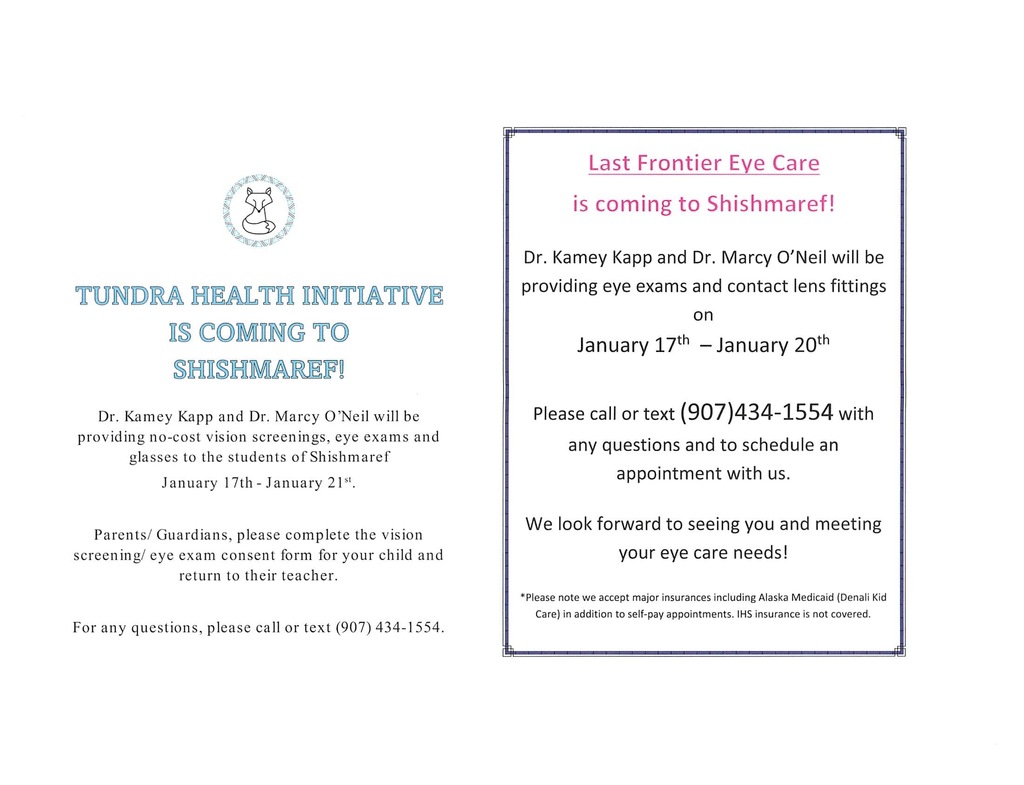 Good evening, Unfortunately, we are experiencing frozen pipes at the school. Maintenance is currently working on the system, however, we will start school on Distance Delivery this week. Packets may be picked up on Wednesday, January 5 from 10:30 am - 1:00 pm. All staff should report to work tomorrow at 9:00 am to prepare and assist with the Distance Delivery packets. Again the building will be closed to visitors and students this week. We will update the status of the school as the situation changes. Thank you, Shishmaref School

This year we are excited to be able to host our annual Christmas Program. This year the program will be tomorrow, Wednesday, December 15 at 7:00 pm. To ensure the safety of all and provide the most enjoyable program possible we've had to make some changes to our Christmas program. Please check out the important information concerning the program and safety protocols that was sent home, Monday. Remember masks are required throughout the school. Doors open at 6:30 pm and the program begins at 7:00 pm.

Good Evening, Currently there have been a total of three cases of COVID identified at the wrestle/cheer tournament. The students are isolated away from the main group with an adult. The decision has been made to cancel the remainder of the wrestling/cheerleading tournament. There will be no further activities taking place at the Unalakleet School this weekend. We are working to schedule travel for students, coaches, and visiting parents to return home tomorrow. We will send out the information as soon as it's finalized, and it will be posted on Google Calendar. We thank you for your understanding and patience. If you have any questions please don't hesitate to call me at (907) 625-1590. Respectfully, Kris Busk

Good Afternoon, This afternoon a student tested positive for COVID-19 at the wrestling/cheerleading tournament. The student has been removed from the school building and is currently isolating with family outside of the school. All teams are currently quarantining and separated from group contact until the results of NSHC testing efforts come back. Social tracing is currently being conducted. The following message was sent by the Unalakleet School administration a few moments ago: "Due to a positive case being identified, the elementary/wrestling cheerleading tournament is currently postponed until tomorrow. All teams will remain in their room. No spectators or visitors will be allowed to enter the school. The situation will be reevaluated tomorrow morning." If the tournament ends up being cancelled, all athletes and coaches returning to the village will be asked to quarantine until the results of a COVID test that is taken at site are returning. If you have any questions, please feel free to contact me on my cell phone at (907) 625-1590. Thank you for your understanding. Kris Busk
Due to a funeral in the community school will be on a Friday schedule with an early dismissal of 130




On Monday, May 10, 2021, the FDA approved the authorization of the Pfizer Vaccine for students aged 12-15, now allowing all individuals 12 and up to receive the COVID-19 Vaccine if they wish. The CDC formally approved the Pfizer Vaccine for 12 and up today as expected. This will begin to move us further towards our school reopening efforts for next year, as well as allow more communities to reach that 80% mark for further reopening of our region. Teams from NSHC will be put together Thursday, May 13 and be ready to begin administering shots on Friday, May 14, 2021. As stated before, I have approved teams from NSHC to come into the schools and provide shots as necessary. Attached are links to the Pfizer Vaccination Consent Form for parents and the EUA referenced on the form. If you would like for your child to receive the vaccination at the school, please complete this form and return it to your school office by Friday, May 14, 2021. The Bering Strait School District highly recommends all eligible students and community members get the vaccine to assist in our efforts of keeping all our students, staff, and communities safe. NSHC COVID19 Vaccination Consent Form:
https://5il.co/sm1x
Fact Sheet:
https://5il.co/sjnd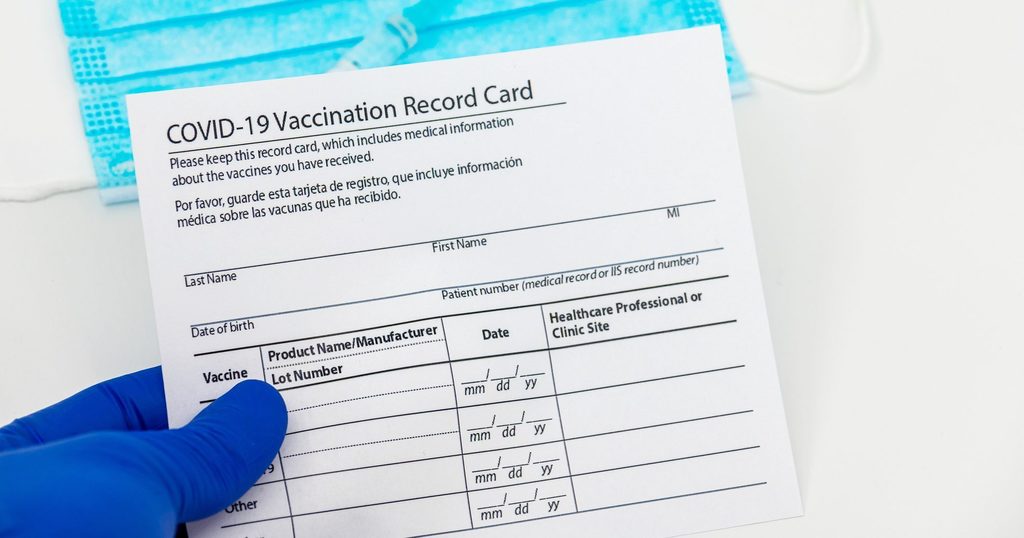 BSSD Graduation Dates The Bering Strait School District is excited to announce that we will be holding in person graduation ceremonies for the 2021 high school graduates. Check with your school to see capacity limits for graduation day!
https://www.bssd.org/page/graduation-dates

2021 Graduation Dates! The Bering Strait School District is excited to announce that we will be holding in person graduation ceremonies for the 2021 high school graduates. Check with your school to see capacity limits for graduation day!
https://www.bssd.org/page/graduation-dates

Share your thoughts on the COVID-19 Pandemic & Education! AK DEED Survey Closes on May 16 at 11:59am:
https://my.thoughtexchange.com/scroll/808824766
Calling all families & advocates of migratory children, English learners, Alaska Native children, children with disabilities, children experiencing homelessness, and children in foster care! We need your feedback! COVID-19 has impacted all of us and has interrupted our students' learning. Join the Alaska Department of Education & Early Development for an evening chat as we discuss the American Rescue Plan (ARP) and gather your input on the needs of our children. Please join us for a discussion on the COVID-19 Pandemic and Education. Choose whichever day works for your schedule! • Monday, May 10, 2021 at 6pm • Tuesday, May 11, 2021 at 6pm • Wednesday, May 12, 2021 at 6pm All meetings are accessible here:
https://us02web.zoom.us/j/85080672200
You can also join us on the phone by calling this number 888-475-4499 and entering the meeting ID: 850 8067 2200

Update- The Middle School Basket tickets have been sold out.

Thank you to everyone who came out to support our Middle School Basketball program by purchasing a ticket. We are down to our last 3 tickets for this weekend's Middle School Basketball. They will be available for purchase tomorrow at 8:00 am.

Greetings- Shishmaref School will have an early release on Friday, May 7th at 12:00 pm due to visiting Middle School Basketball teams arriving early.
VOLLEYBALL MATCHES Friday 4/23 5:00 PM. SHH (H) vs. kKA 6:30 PM. KKA (H) vs. SMK 8:00 PM. SMK (H) vs. SHH Saturday 4/24 10:00 AM. SHH (H) vs. SMK 11:30 AM. SMK (H) vs. KKA 1:00 PM. KKA (H) vs. SHH